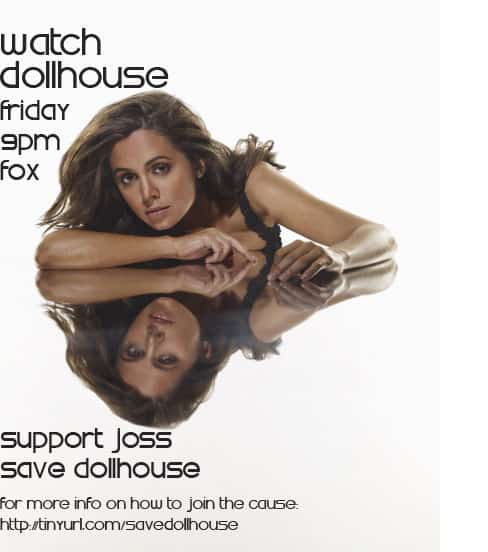 The new "Trending Topics" Twitter sidebar is usually filled with things that bore me: today it was Manny Ramirez, KFC, and….Dollhouse?
I had to check and see why Dollhouse was suddenly a hot topic of conversation, and I found a "Tweet to save Dollhouse!" campaign in action. BuddyTV is starting a campaign to try to keep FOX from cancelling Joss Whedon and Eliza Dushku's show.
Step One. Leave a comment below.  Tell us exactly what it is that you love about Dollhouse. It can be anything. Is it the plot, the characters, the writing style, the suspense, whatever it is we want to know! The more specific the better.  We will take all of the feedback from the comments and send it to the network explaining for our fans why Dollhouse needs to see a second season (and many more after that).

Step Two. Spread the word.  We want you to talk about it on twitter! Log on to your twitter account and tweet out this message (exactly as it appears):

Support Joss: Save Dollhouse. Fans get their voices heard @BuddyTV http://tinyurl.com/SaveDollhouse Please ReTweet and join the cause.
Of course, BuddyTV seems to be as interested in getting you to follow them on Twitter as they are in saving Dollhouse, but their Twitter campaign appears to be spreading, if you can believe the Trending Topics sidebar. And since I love the show–even if I rarely watch it at its Friday 9PM time, usually catching it on Hulu–you should help out. All it takes is a tweet.