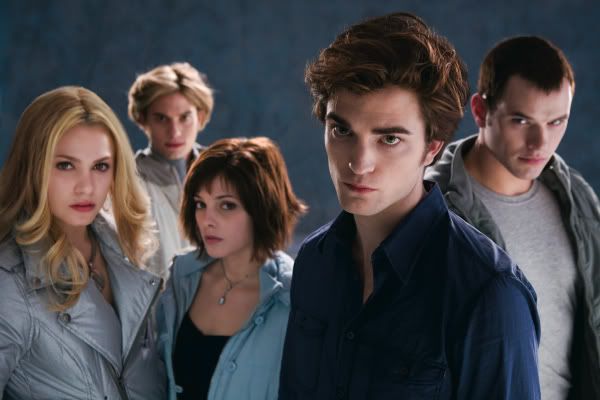 I'm a formerly-resistant Twilight convert who's now seen the movie twice. I'm about halfway through the third book, and having just finished New Moon, I've got more thoughts on the film adaptation as it moves forward, with a new director and possible other changes.
The Twilight books are written in first person and read like a teenager's gushing diary, with little description of action–or even of characters besides hair color, size, and beauty. This allows readers to project whatever they want to see onto them, but makes it hard to create characters for a performance.
But the books get better as they go along–fewer adverbs and gushing descriptions comparing Edward Cullen to male models, and more action. There are motorcycles, cliff diving, werewolves, more evil vampires, and a daring daylight rescue scene where Bella gets to do the rescuing, for once. So New Moon has the potential to be a better movie than Twilight.
(possible spoilers below. Just sayin')
It also has the opportunity to turn into a soulless, laughable bunch of CG nonsense. Director Chris Weitz's Golden Compass was rather bland (and I didn't read the book, while people who did appear to have hated the film far more than I did), and I doubt he has Catherine Hardwicke's grasp of what it's like to be a teenage girl.
As I wrote before, I think it takes a special hand to turn a rambling, sprawling novel that spends huge chunks of time cooing over its leads' physical beauty into a film with an actual plot and characters that aren't paper dolls.
It's harder to see how screenwriter Melissa Rosenberg (from the first movie) will trim bits from New Moon as easily as she did from Twilight. While Twilight was about desire and first love, New Moon is mostly about first heartbreak, and friendship. One has to keep the important parts of Edward and Bella's relationship while not sacrificing the development of Jacob and the werewolves, because New Moon is really two stories, one bookending the other.
Edward comes jolting back in at the end of the book, as awkwardly as the attack of James and Victoria at the end of the first book, but almost no one will be surprised when it happens. (My sister and I, listening to the audiobook, took bets as to how many hours would pass before he returned.) The first film did a good job of inserting the "bad guys" earlier in the story, streamlining the plot, but this will be harder to do with New Moon.
Rosenberg will have to make all of this coherent, and Weitz will have to prove that he can get believable performances out of his cast. He'll also have to find a way to make the werewolves intimidating, not laughable, a task that comic movie fans are well aware can be quite difficult. We all saw the first Hulk movie, after all.
Speaking of the werewolves, one of the hardest decisions (after replacing Hardwicke) will be whether or not to keep Taylor Lautner as Jacob. He was spot-on in the first film–puppy-dog cute and eager–but when Jake has to turn action hero, six-five and gorgeous, I can't see him maintaining. Still, I dislike cast changes mid-series almost as much as director changes, especially for a lead, so I'm kind of taking his side.
But it should tell you something that I felt creepy posting a picture of him shirtless here because he's so…young.
What I'm really looking forward to, though, is more Alice. And more sass and grand theft auto from her. As long as she gets to do some sweet stunt driving, I'll be happy. I think.