In honor of the beautiful bouncing baby Bondurant, I'm going to do something I don't normally do.  Something a little risky, a little wild.  I'm going to talk about that OTHER comics publishing giant, Dark Horse.  I mean, Oni Press.  I mean, Slave Labor? No!
DC Comics.
Going out on a limb here, I'm going to fully admit my understanding of DC only gets me so far, certainly not as far as my Distinguished Colleague who's fine column graces this humble B@N.  But hearing about the joyous birth of his little girl and seeing a friendly little print greet her in her new room in this new world of hers, something wonderful happened.
I really liked Supergirl.
Now, hearing they brought back what I felt was (remember here:  this a True Believer you're talking to so do hold your rotten tomatoes until you've heard me out) a useless character in the Superman/Batman arc with Loeb and Turner, I just shrugged my shoulders and flipped through a few issues out of mild interest.  After all, the character had perished in the first of many Crisis, had become some sort of… angel/demon/fire thing under Peter David's care, how much further could they go with a character with a -girl tacked on at the end?  They canceled her last book and now Superman's cousin crashed back into continuity.  Did we really need her back?  It took until now to really get her involved with the ebb and flow of the Superman stories, her own book has gone through some downright embarrassing stages of rebellious teen girl to kind of slutty teen girl to outsider emo teen girl and… you can start to see where bringing her back doesn't really seem to have done much for the carefully crafted stories at DC.  She was part of the Titans and then she wasn't.  She was fighting with the Amazons, but then she wasn't.  She was a champion of Kandor but that stopped nearly as fast as it started.  Sure, the question has been queried over a different DC heroine but really, who is Supergirl?
I'm going to go further out on my trusty limb here and say this:  Supergirl is joy.
From her very first cover, she's announcing herself right off the bat, 'Hey there, guy!  I got all your powers!'  Kind of a brazen statement coming from a hero, not to mention a perky looking blonde girl.  Sent by her parents to be raised by Kal-El, Kara brings the last man of Krypton some family that was thought lost long before he could remember, both a gift to his world and ours.  She's a naturally cheerful character, from her girlish and brightly colored costume to her outgoing nature.  She's not lurking on that cover, fearing for a secret identity or harboring secrets; Supergirl is a guileless character.  Why should she fear anything, her cousin is freakin' Superman!  Do they come any nicer or more honest and true in the DCU?  She not only battles by his side but remains his family as well, more than a sidekick or a Justice League comrade.  She is one of the few people who gets to wear the S shield and that's a proud tradition to be a part of.
Not only is she Superman's cousin, but she 'all' of the powers of the Man of Steel as well.  She can fly, move mountains, race trains, the world is hers.  With her powers, Supergirl could do anything she wanted to, not a glass ceiling that she can't shatter or a goal she can't meet.  Kara doesn't bear the Warrior's burden that Wonder Woman shoulders, she lives for the mighty moment.  She revels in her gifts and, most importantly, gives them back to those in need.  A selfish Supergirl seems kind of wrong, doesn't it?  Look at that cover again, Supergirl shows up in costume, ready to go.  She's a heroine, answering the call to action in a kicky little skirt and boots.  Sometimes a bad perm and a headband.
Her costume may not be practical per se, but it's fun.  This isn't armor, it's a dress, a youthful sort of thing to wear.  I've seen covers with her in everything from a demure little dress to short pants and moccasins.  She's fashionable, her primary uniform look being nothing more than the bright blue, red and yellow and the shield.  Despite being Superman's Cousin, she's her own young woman as well.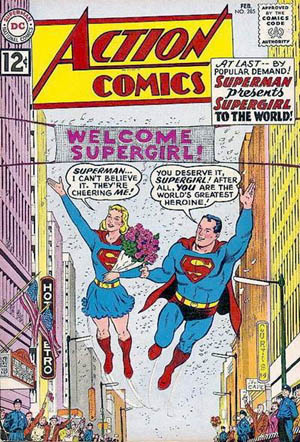 I think there's something really unique about Supergirl, something wonderful.  There was a time when you could write into DC and design an outfit for Supergirl that they would draw her in, getting her in to the hands of the public.  Young and old like the character, some because of the memories she invokes and some because of the fresh new look the character provides.  I've been to panels at conventions where a quick poll of the audience shows that people can recall the Maid of Might in a heartbeat.  She's a familiar face to a lot of comic readers and her fans remain to this day.  No matter what companies do, no matter what editorial dictates, storylines are going to come and go.  At heart, everyone knows who Supergirl is.
And that's what counts.
Welcome to the world, little Olivia.  You're gonna be Super.