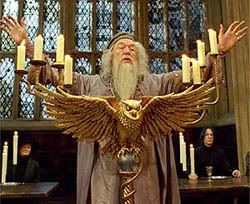 Just because the final book in the Harry Potter series has been released, that doesn't mean we've heard all of the story. While appearing at Carnegie Hall to a full audience, noted author J.K. Rowling answered an audience question on whether the infamously dead Hogwarts headmaster Dumbledore ever found "true love" with the surprise reveal that "Dumbledore is gay."
This elicited both gasps and applause from the audience. Rowling explained that Dumbledore actually had romantic feelings towards his rival Gellert Grindelwald, a character killed in a battle between good and evil. Sadly, the two were on opposite sides, leaving Dumbledore "horribly, terribly let down".
This underlying tragic romance had remained unspoken and unknown to the general audience… at least to some. "Oh, my god, the fan fiction," Rowling was quoted with a laugh, proving that the woman truly knows her audience.
From the Yahoo News article here.