When the Captain America Omnibus came out a week or so ago at the store, it was like Christmas came early for the employees. An expensive Christmas as the book set at least three of us back a pretty penny, but as we cracked open the first copy bought amongst us, we all knew it was worth it. Oohing and ahhing at the production quality and all of our favorite moments from Brubaker's run, we hit some of the special features and that's when the cry went out.
"Hey," noted a fellow register jockey. "That text is still blacked out!"
Lo and behold, the script shown in the Director's Cut was included in the omnibus and on the last page, detailing page 31, panel 4, was at least four lines with a big black mark across them and clearly labeled CENSORED. Little did I know, these four lines would lead us all down a path of investigative discovery the likes of which hadn't been seen since the days of Zapruder film. Only this time, it was a comic book. And quite possibly, it could break the internet in half. No, really. This time, we meant it.
Face front, True Believers and read on!
Here it is, read it and weep: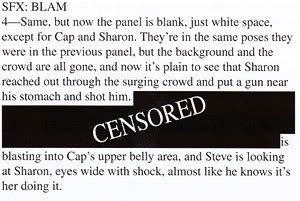 That's a good four or so lines of censored material, starting right after Brubaker describes the obvious of the panel (the clear shot of Sharon putting the gun at Cap's stomach and shooting) and ending by hiding a word from the start of a sentence talking about where Sharon is shooting him and that Cap looks 'almost like he knows it's her doing it'. As we looked on in curiousity, the first thing we all wanted to know was what wasn't Brubaker telling us. It even looks a little like who ever is doing this blasting is obcured in the censoring; after all, if it was just more reitteration that Sharon was blasting Cap, why wouldn't they just show the name? Why start that sentence on a blank, so to speak, if the answer was as clear as it looked to both Sharon through the narrative and the reader through the artwork?
Or was it that clear? The next day, a fellow coworker had an interesting discovery that I hadn't even considered. Looking back over the pages that the script was talking about, we see Sin walk up to Sharon Carter in the bathroom at the hospital (where we know Captain America was declared dead on arrival) and give her a trigger word that causes her to flashback to when Cap was shot. She remembers everything that we've seen so far, but the last panel on page 31 blurs out, rather dreamlike and we see Sharon shooting Cap, sans crowd.
But what is she shooting him with?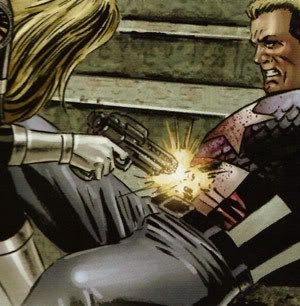 That doesn't look like a normal gun. Heavy duty with a bulky look to it… I'm no gun expert, but I'm almost not sure that's a gun at all. Maybe it's a 'SHIELD Special', something they give agents of her rank that allows for grappling hooks, tranq darts and all that awesome spy stuff. But if that's the case, wouldn't the autopsy have revealed that SHIELD bullets were embedded in Captain America's gut? If it's a SHIELD Special gun, it should have SHIELD Special bullets too.
Or was that really the gun that shot Captain America?
Oh, yes! This gets better! Send the kids out of the room and let's take a look at the infamous shooting: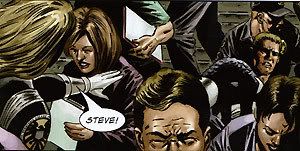 Here's Sharon, running to Cap's side as the first sniper bullet has rung out, hitting him high in the upper right shoulder area. Note that she's coming in on his right with his lower stripey torso towards her.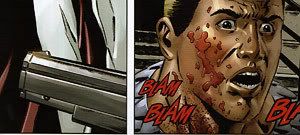 That is not the same barrel as in Sharon's triggered flashback. That is a very standard issue looking gun, no bells, no whistles, anonymus enough for an assassination. If you look at the next few pages, you'll notice that the US Marshals are carrying the exact same firearm.
In fact, look at the angle of the barrel; that's coming in from a right angle. Sharon's flashback shows her pointing at him in a very direct maner, dead-on to hit him square. The gun we see in the actual shooting seems to be coming in at not only an angle, but the wrong angle from where Sharon is coming from. Sure, this could just be a bit of artistic license but we're talking about a script with censored material here. I'll take it that the guy behind Cap in the chaos of the situation is colored a little lighter than he is in other panels, but gun angle and style?
There's something fishy going on here.
But what? Why would Sharon think she's shot the man she loves? Why would she think she shot him with a rather unusual gun? Was the angle of the gun shown in the pages before just a trick of the 'camera' angle or was there a second shooter? How far does this thing go?
I don't have to tell you that someone who's able to put this much detail in a book with a deceased title character is doing incredible work. There is more to this story that is being told, perhaps more than is being told in any book on the shelves today. But the questions still remain: what is really going on? In a way, I think that there was so much hoopla about the Death of Captain America(tm), it's very easy to gloss over the event itself and miss the greater story. Below the incriminating panel detail in the director's cut script is a black and white picture of a Police officer walking away from us, down the hospital hall as heroes wait or hang their head.
Who should we be watching, the heroes or the villains?